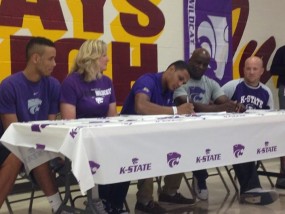 Hays High School quarterback Alex Delton signed a financial aid agreement with K-State today. Delton is a three-star prospect according to Rivals.com who committed to the Wildcats in February. He announced the news on his twitter account.
Signed with Kansas St. today. Officially a wildcat!! Blessed to be apart of the family.
A financial aid agreement can be signed before a player graduates high school if they intend on graduating in the middle of the academic year. It obligates the school to honor a scholarship to the player, but it doesn't obligate the player to come to the school.  The agreement also doesn't replace signing a national letter of intent once the signing period begins in February.
Delton is the nation's 16th best dual threat quarterback and the fourth best player in the state of Kansas for the class of 2015 according to Rivals.com