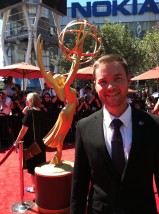 MANHATTAN — Bryan Pinkall, an assistant professor of music at Kansas State University, can add an Emmy to his list of accomplishments.
 
As manager of performance operations and direction for the 2014 Sochi Olympic Winter Games Opening Ceremony, Pinkall was part of the team that earned a Primetime Emmy for Best Lighting Direction at the 66th Primetime Creative Arts Emmy Awards on Aug. 16 in Los Angeles. The Academy of Television Arts and Sciences awards the Primetime Emmys.
 
The opening ceremony also was nominated in three additional categories: Best Special Class Program, Best Artistic Direction and Best Technical Direction.
 
Pinkall was selected — after two years of interviews and testing — by the Olympic Winter Games Organizing Committee in 2013 to join the group tasked with the production of the opening ceremony. He traveled to Sochi, Russia, to work with the more than 5,000 performers in the ceremony, which was one of the largest artistic events in history and viewed by more than 3 billion people worldwide.
 
"I have always dreamed of being part of the opening ceremony," Pinkall said. "I never imagined that I would have the opportunity, and to be able to celebrate the program at the Emmys is just incredible."
 
The Academy of Television Arts and Sciences also selected Pinkall as a faculty member of the Academy in Music in June because of his involvement in the production of the opening ceremony.