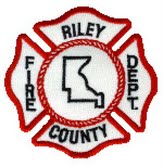 A double wide mobile home at 212 Ninth Street in Ogden was destroyed by fire Monday afternoon.
Riley County Fire Chief Pat Collins tells KMAN firefighters were on the scene for most of the afternoon, with the fire reported at about 1:30 p.m.
No injuries were reported, with the fire destroying the structure and contents, for an estimated loss of $100,000. The owner is listed as Doris Murphy of Great Bend, with the resident identified as Amber Colin. Colin was not home at the time, but a baby-sitter was, with four to five occupants. Collins says it appears a juvenile may have started the fire with a lighter.
In addition to Ogden and Tatarrax firefighters, the Manhattan and Fort Riley Fire Departments were called in for Mutual Aid.