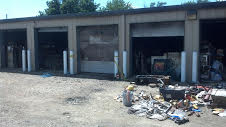 A fire was reported early Wednesday morning at Wamego Self Storage on  East Military Road. Wamego Fire Chief Phil Stultz tells KMAN the point of origin has been determined as a storage bay five bays in from tne north end, which got stuck in the ceiling area before spreading to other storage bays. Stultz adds the fire has been determined NOT to be arson, adding there's not an electrical or ignition source through there, and no evidence of foul play.
The structure is basically a total loss or 80 percent.
Firefighters from Wamego Fire, Louisville Fire, and St. George Fire responded to the scene. Other personnel called to the scene included members from Wamego Police, Pottawatomie County Sheriff, Pottawatomie County Emergency Management, and Wamego Utilities.
The Kansas State Fire Marshal's office is assisting in the investigation. The fire was called in at two a.m. Wednesday.