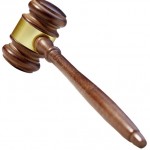 "In 24 years, this is the most horrific case I've been involved in, in Riley County", commented Prosecuting State Attorney Barry Wilkerson, during a re-sentencing case Tuesday morning.
The re-sentence was held in Riley County Chief Judge, Meryl Wilson's courtroom for former Fort Riley soldier, Tony Tremayne Lewis.  Lewis is charged with nine different offenses stemming from a few incidents that occurred in the spring of 2009.  The charges include- burglary, aggravated criminal sodomy, aggravated kidnapping, rape and aggravated assault.
In June of this year, the Kansas Supreme Court vacated five life imprisonment sentences for Lewis, as officials say there was a sentencing error.  For this reason, the case returned to Riley County for re-sentencing.
Lewis was also convicted in Geary County District Court of similar charges.
Judge Wilson first asked if Lewis wanted to make a statement.
"I want to say thank you by giving me all that time to think.  I had time to really think about everything.  This is my first time being incarcerated.  Not a day goes by that I don't think about what happened, and not a day goes by that I don't regret it.  I have potential to be something.  From the bottom of my heart sir, I want to apologize to the state", Lewis said.
Lewis's Attorney, Jillian Waesche stated that Lewis was sexually abused at the age of seven.  She added, since that time he has struggled, but he did join the army.
Waesche indicated Lewis had sought mental health treatment after he was incarcerated.
She asked that the court consider concurrent sentences with the 155 month sentence in Geary County, and asked the court to impose a 240 month sentence, or 20 years in prison.  She also requested Lewis be allowed to continue to seek treatment.
Wilkerson began his recommendation for sentencing by stating, "I'm not going to question his [Lewis's] sincerity."
Wilkerson brought up a few of the incidents that led to the arrest of Lewis.
One incident took place on April 25th, 2009, where children were in a bedroom while their mother was raped.  Wilkerson stated that reports show Lewis threatened to kill the mother and the children if they told police.  The next situation took place on May 7th of the same year, where reports indicate a young lady was able to get away on bare foot, but thought she was going to die.  The last date Wilkerson brought up was May 21st of 2009.  He said reports indicate a young lady was visiting a friend when she was held at gunpoint to withdraw money out of an ATM.  After, she was raped in her own vehicle and was forced to perform sexual acts.
Wilkerson said these victims will be impacted for the rest of their lives.  He also mentioned it would not do victims any justice to grant Lewis the sentence his attorney asked for.
As far as a request for sentencing, Wilkerson asked that a controlling sentence of 1,236 months be imposed, or 103 years, which would run consecutive with the Geary County sentence.
"I have no reason to doubt the sincerity of what you said today.  These women's lives were affected forever.  Words and sentences will not change their [the victims]lives", said Judge Wilson.
Wilson began listing the charges, and the sentences for each charge.  Lewis was sentenced to a total of 928 months in prison, or around 77 years, with the charges set to run consecutive to Geary County.