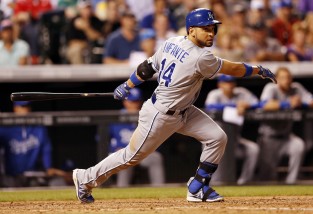 DENVER — Ned Yost never has a bad birthday, but a win helps make the occasion much more special.
Omar Infante had three doubles and drove in four runs to help the streaking Kansas City Royals beat the Colorado Rockies 7-4 on Tuesday night.
It also brought a smile to Yost, who turned 60.
The Royals have been celebrating a lot lately. Since dropping two games below .500 on July 21 they have won 22 of 27 to move two games ahead of Detroit in the AL Central.
They even won with ace James Shields not having his best stuff. Shields pitched six solid innings to get the win for the Royals, who are a major league best 15-4 in interleague play. That made a winner of Shields (12-6), who allowed two runs on nine hits and struck out six. He wasn't sharp, allowing base runners in every inning but his last and struck out Drew Stubbs with the bases loaded to end the fourth.
The Royals scored three more runs in the eighth off Colorado's bullpen. Infante had a two-run double with the bases loaded.
It was the second time in his career he has had three doubles in a game. The last time, May 27, 2004, came against the Royals when he was playing for Detroit.