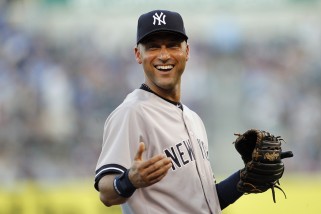 KANSAS CITY, Mo. — Michael Pineda kept throwing strikes. The Royals kept taking them, trying in vain to drive his pitch count up. When Yankees catcher Brian McCann looked up in the third inning, his right-hander had still thrown just 35 pitches.
He knew then that Pineda was in a groove.
Pineda wound up pitching into the seventh inning Monday night to win for the first time since April 16, helping New York beat the Kansas City Royals 8-1 for its fifth straight win.
In the makeup of a game rained out in early June, Pineda (3-2) gave up a solo shot to Mike Moustakas leading off the third inning. But that was about it in Pineda's third game back from the disabled list. He struck out five without a walk.
Jacoby Ellsbury drove in a run in the seventh inning with the 1,000th hit of his career, then added a two-run homer in the ninth. Derek Jeter added a pair of RBIs in his final scheduled trip to Kauffman Stadium, and Stephen Drew and Martin Prado had solo home runs.
James Shields (12-7) allowed six runs over 6 2/3 innings for Kansas City.
If you're willing to count the makeup against New York as a true series, it was the first time in their last 11 that the Royals have dropped one.