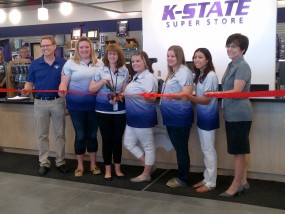 From 3,000 square feet to 9,000 square feet, the K-State Super Store offers additional K-State apparel options and has resulted in the addition of 30 new employees. Although the store opened earlier this month, the official ribbon cutting ceremony was held Tuesday morning.
Over 30 people were in attendance, including Manhattan Mayor Pro Tem, Karen McCulloh and Riley County Commission Chair, Robert Boyd.
The new store features over 100 new styles of GTM apparel, an authentic K-State football uniform on display, and a "custom game day" t-shirt option that allows people to pick their own t-shirt, design, and have it made the same day.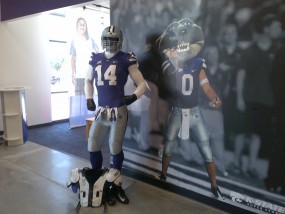 Manhattan Area Chamber of Commerce President, Lyle Butler said the construction was delayed, like most Manhattan building projects, during the winter months due to snow.  "But I know that Owner, Dave Dreiling wanted to get it [the store]open before the first home football game, and he more than succeeded in doing that", commented Butler.
The old building, at 520 McCall Road, is currently being externally remodeled.  The custom showroom department will then eventually move into that building, and it will be expanded as well.
To find the new super store location, it is directly in front of the old building, just across the street.