By Chris Kutz, K-State Athletics Communications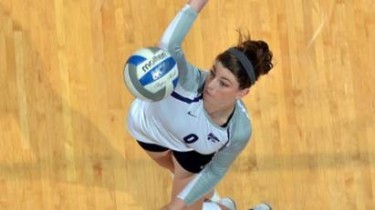 Photo Courtesy Kansas State Athletics
GREEN BAY, Wisc. – A Wildcat offense that hit .345 for the entire match led the K-State volleyball team to its second straight sweep to open the season as the Wildcats beat South Dakota 3-0 (25-9, 25-20, 25-16) at Kress Events Center on Saturday morning.
Sophomore Brooke Sassin led the Wildcats with 11 kills on a .611 hitting percentage while redshirt seniors Chelsea Keating and Natali Jones had seven and six kills, respectively. Jones was efficient with her six kills on seven errorless attempts, hitting .857 for the match. Keating hit .312 after having only two errors on her 16 attempts.
"We were in a little bit of a better hitting rhythm [today compared to last night]," said K-State head coach Suzie Fritz. "One of our strengths with this team is our balance. We are not relying on one or two players. The middles are involved, Chelsea [Keating] has a presence on the right side, and Katie [Brand] is doing a nice job of getting everyone involved."
With the offense in sync, the Wildcats kept South Dakota out of system with effective serving. K-State had nine aces, with Keating and sophomore Kersten Kober leading the way and establishing new career-highs with three aces each. Combined with 44 digs and 7.0 team blocks, K-State held the Coyotes to a .124 hitting percentage in the match.
"Serving strategically and serving in the right zones had a lot to do with it," said Fritz about K-State's defensive approach. "They couldn't get in system enough to do what they wanted to do."
The Wildcats broke out to a 6-0 lead in the first set, a start capped by back-to-back aces from Keating. South Dakota never closed the gap closer than six points, and with the score at 11-5, the Wildcats used a 10-0 run to pull away from the Coyotes. Sassin and Keating had two kills apiece while South Dakota committed three errors as part of the run.
K-State trailed in the early going of set two, but a brief 4-0 run featuring kills from Keating, Brand and Reininger gave the Wildcats a 5-3 lead. Despite holding the lead throughout most of the second set, South Dakota kept it close, even tying it at 10-10. Back-to-back errors, one on a service and another on an attack, put K-State up 12-10, however.
Later in the second, the K-State block came alive, including a duo block by Jones and Sassin that opened a three-point advantage at 19-16. Katie Brand, who had set point in the first with a kill, clinched the second for K-State at 25-20 with a solo block, the fourth team block of the set by the Wildcats.
In the third, the Wildcats once again established an early advantage, taking a 5-1 lead after a kill from Brand. Two points later, South Dakota blocked a Kylee Zumach attack to make it 5-3, but the two-point margin was the narrowest of the entire set. Sassin had a team-best five kills in the third set.
Later Saturday afternoon, K-State led at one point in all three sets and fought to extra points in the third, but the Wildcats were swept by Arizona 3-0 (25-21, 25-18, 26-24) to finish second in the Green Bay Country Inn & Suites Tournament at the Kress Events Center.
Arizona's Madi Kingdon had a match-high 23 kills, hitting at a .315 clip on 54 attempts, to overcome the K-State defense. K-State (2-1) allowed Arizona (3-0) to hit .244 for the match while it hit .147 on 129 attempts (36 kills, 17 errors).
"We stayed pretty low error, even under pressure, which is not easy," said K-State head coach Suzie Fritz about her team's effort. "We didn't miss a lot of serves, and we didn't hit a lot of balls out of bounds. We just had a hard time finding the floor in terms of putting the ball down. We got kind of narrow in how we were playing. When one thing doesn't work, you have to be creative and find something else that does work. We have to learn that."
Katie Reininger led K-State in kills (8) and blocks (6) while she also contributed two digs and one of the team's two aces.
Sophomore Brooke Sassin had six kills, giving her 24 throughout the tournament, as she was one of two Wildcats named to the all-tournament team. Redshirt sophomore Katie Brand, who had a double-double on Saturday evening with 27 assists and 12 digs, was also named to the all-tournament team. The setter contributed four kills and two blocks against Arizona as well.
In the first set, K-State led as late as 15-14 when Reininger tallied one of her two kills in the set, but Arizona used a 4-0 run to take an 18-15 lead. The Wildcats did rally, however, pulling within one at 20-19 following three straight errors by Arizona.
Kingdon, who had seven kills in the opening set, helped the Wildcats seal the set with a 5-2 run and tallied set point with a kill.
K-State led midway through the second set as well, but as in the first, Arizona utilized a 4-0 run to seize a 15-14 lead. A kill from Kylee Zumach on two occasions evened the set, including the second tying it at 16-16, but a service error by Brand ignited another 4-0 run for Arizona that eventually led to the set loss.
The Wildcat offense could not break the Arizona defense in the latter part of the second as K-State hit .178 for the entire set. Arizona, meanwhile, hit .333.
K-State staged a threat to forcing a fourth set in the third when it faced set point, 24-23, after a service error by Arizona. A kill from Kingdon followed by back-to-back errors from K-State flipped the script of the third in favor of Arizona.
K-State had 14 kills and hit .200 in the third set, its highest marks in both categories across all three sets.
"We have to be able to develop offensive balance and productivity, and we have to be able to do it from match to match, regardless of who is on the other side of the net, if we want to be where we really want to be," said K-State head coach Suzie Fritz.
The Wildcats will return to action with their home opener against Arkansas on Thursday, September 4 at 6 pm in Bramlage Coliseum. It will be the first match of the three-day Varney's Invitational in Bramlage.