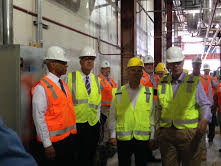 The Department of Homeland Security had higher-ups visiting Manhattan Friday, with a tour of the National Bio and Agro Defense Facility construction site. Dr. Reginald Brothers, who serves as Under Secretary for the D-H-S Science and Technology Directorate, was one of the dignitaries on hand, along with members of the Kansas Congressional delegation. The Under Secretary told reporters that being here is "just tremendous," saying NBAF is so important for national security.
Dr. Brothers commented on the seven large generators and large boilers, which have at least two extra units in addition to what is required. He also talked about the wind-resistance safeguards for winds up to 230 miles per hour,saying all of the design standards are beyond what has been recommended by National authorities. And while the Homeland Security official admits his agency has alot on its plate,he says  NBAF is an important part of that, with food supply and the agricultural economy important as well.
Also on the tour were U-S Senators Jerry Moran and Pat Roberts and First District Congressman Tim Huelskamp. All three spoke with reporters following the tour and seemed impressed with what they saw.
 Moran of Manahttan says while there's more funding to come through yet,  NBAF is going to happen, adding "It's going to occur, it's going to be built, it's necessary." But Moran added it's up to Congress to get the process completed…
U-S Senator Pat Roberts described the process as a team effort and First District Congressman Tim Huelskamp said it was wonderful to see the Under Secretary here.