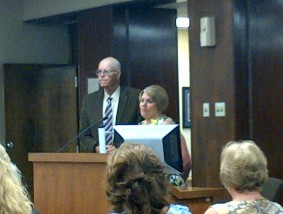 Two new department heads were introduced during Monday's Riley County Commission meeting.
New Treasurer, Shilo Heger was sworn in before the commission meeting began, and was congratulated during the meeting's press conference.
New IT/GIS Director, Kevin Howser was also acknowledged during the press conference.  Howser is a native of Missouri, but has been living in Silver Lake for the last nine years.  Howser said he intends to commute until his family can make the switch to Riley County.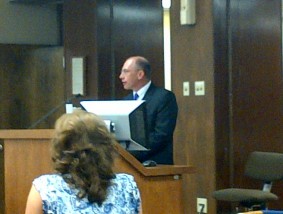 Howser has had various roles throughout his 30 years in information technology, most recently as the IT Director of Lawrence Memorial Hospital.  His wife, Debora already works in the area, as the Executive Director of Special Services for the Manhattan Ogden USD 383 school district.
————————
Other press conference items included a Riley County Police update and back to school safety briefing by Captai,n Josh Kyle; a fair report by County Extension Director, Jennifer Wilson, and a proclamation was given to the Riley County Health Department for breasfeeding awareness week.
————————-
One item was approved during the meeting-regarding the enlargement of Lakeside Heights sewer district and University Park water district.  This is for Ronald and Beverly Schwab's Lakeside Heights property, and was previously discussed by the commission.
Assistant County Counselor, Craig Cox presented the item, which was approved unanimously.