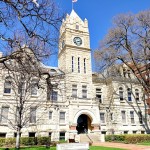 After several court appearances and a change in defense attorney, a Manhattan man has entered a plea of no contest to a variety of charges, including kidnapping and aggravated robbery. Jerred Snyder, 30, withdrew all previously filed motions and entered the plea Wednesday morning in Riley County District Court.
Snyder's sentencing is set for September 29th. His no contest plea also applied to a separate case of making a false writing.
Snyder was arrested in early April in connection with an armed robbery that took place outside a business on Anderson Avenue. A Junction City man was held at gun point and asked to drive to another location by Snyder.