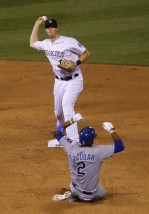 DENVER — Matt McBride is so new to the Colorado Rockies that he doesn't even have his nameplate above his locker yet.
Didn't take him long to make a big impact, though.
McBride hit his first career grand slam and Jorge De La Rosa pitched eight crisp innings, helping the Rockies cool off the Kansas City Royals with a 5-2 win on Wednesday night.
With one swing, McBride derailed the Royals' roll, snapping their three-game winning streak. Kansas City saw its lead in the AL Central shrink to one over Detroit.
Danny Duffy (8-11) was cruising along with a 2-1 lead until a two-out error by third baseman Christian Colon in the sixth opened the door for a big inning. McBride lined a fastball from Duffy into the left-field bleachers and then zipped around the bases in exhilaration.
That was more than enough for De La Rosa (13-8), who allowed five hits and two run against his former team. He also got the Royals to hit into four double plays, tying a franchise record for most by a single pitcher in a game.