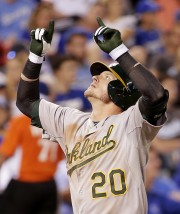 KANSAS CITY, Mo. — The Oakland Athletics' combination of Jon Lester and Josh Donaldson was too much for the Kansas City Royals.
Lester pitched six strong innings and Donaldson homered twice and drove in four runs as the Athletics won 11-3 Tuesday night, snapping the Royals' eight-game winning streak.
Lester (13-7) has won all three of his starts since joining the A's in a trade from Boston in a deadline deal on July 31 that sent All-Star outfielder Yoenis Cespedes to the Red Sox. Lester struck out nine and allowed three runs on six hits and two walks.
The Royals have won 11 of 13, with both losses coming against Lester, who improved to 9-3 with a 1.84 ERA in 13 career starts against Kansas City.
Royals starter Jeremy Guthrie (8-10) allowed six runs on 11 hits in 4 2/3 innings.