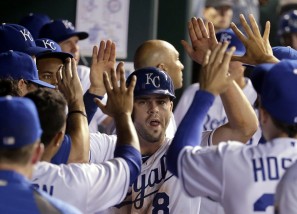 KANSAS CITY, Mo. — The Kansas City Royals conjured up a little more late-game magic Wednesday night.
This time, they didn't wait until the ninth inning.
Shut down most of the night by the Twins' Phil Hughes, the Royals finally broke through with six runs in the eighth. Nori Aoki drove in the go-ahead run, and Billy Butler and Salvador Perez each drove in a pair during the surge, sending the Royals to a 6-1 victory.
"That's kind of who we are," Royals manager Ned Yost said. "We're a team that plays with a lot of heart, with a lot of energy and a lot of passion."
In the series opener, the Royals were shut out until the ninth inning, when Alex Gordon hit a two-run homer for a 2-1 win. This time, it was a series of bloopers and infield singles that gave Kansas City the offense it needed in the waning innings.
"We're just living on a high right now," said Jarrod Dyson, whose bunt single scored the tying run. "We're going out and having fun and playing like we're 5 years old."
Wade Davis (8-2) pitched a perfect eighth for the win, helping the Royals extend their lead over Detroit to 2 1/2 games in the AL Central. They have won 11 of their past 13 at home.
Minnesota has lost four straight and eight of 11 overall.
"We've scored two runs in two games here," Twins manager Ron Gardenhire said. "That's not going to win very many games."
The Royals' big rally began when Raul Ibanez led off the eighth with a blooper to right, and Mike Moustakas beat out an infield hit with a dive to first base. Two batters later, Dyson's bunt allowed pinch runner Lorenzo Cain to slide home and knot the game 1-1.
Aoki followed with a slicing single to left field to give the Royals the lead, and Butler and Perez added four more runs with two well-timed hits to provide plenty of cushion.
"I can remember probably two hard-hit balls tonight. That's how baseball is going to go," Hughes said. "That's a team over there that finds a way and battles."
Most of the game had been an entertaining duel between Hughes (14-9), who had won his last four starts, and Liam Hendriks, a former Twins pitcher making his Royals debut.
Hughes gave up singles in each of the first two innings before finding his groove, allowing one other baserunner until his fateful eighth. Hendriks retired the first 14 batters he faced, and never ran into trouble until Kennys Vargas singled with one out in the seventh.
Oswaldo Arcia followed with a double off the wall to give Minnesota a 1-0 lead.
Hendriks, making a spot start for ailing Yordano Ventura, finished out the inning without any more damage. The Australian wound up allowing four hits while striking out five without a walk.
"That was awesome," he said. "It was a good way to start off in Kansas City."