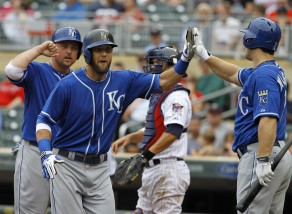 MINNEAPOLIS — The Kansas City Royals scored seven runs in the second inning. Then they really started hitting the ball.
Alex Gordon, Salvador Perez and Josh Willingham homered, and the Royals beat the Minnesota Twins 12-6 on Sunday for their 20th win in their last 25 games.
Kansas City sent 11 batters to the plate in the big second, keyed by two-run singles for Alcides Escobar and Nori Aoki. The Royals then started hitting the ball out of the park after a 54-minute rain delay in the fourth.
Gordon sent one drive into a flower bed in right-center. Perez lined one into the left-field seats, and Willingham's homer traveled an estimated 433 feet into the third deck in left field.
The Royals also increased their AL Central lead to 1 1/2 games over Detroit, which lost 8-1 to Seattle. This is the latest the Royals have been in first place since 2003.
Kansas City's Jeremy Guthrie (9-10) returned to the mound after the delay in the fourth and lasted seven innings, yielding home runs by Joe Mauer and Kennys Vargas.
Coming off his sixth career shutout vs. Oakland, Jason Vargas (9-5) starts the finale of the four-game series on Monday. Vargas has a 0.86 ERA in three starts against Minnesota this year and hasn't allowed a run in the last two.