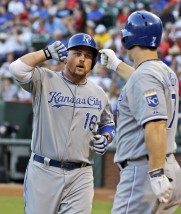 ARLINGTON, Texas (AP)– Rookie right-hander Yordano Ventura struck out six in six innings for his 10th victory, and Billy Butler and Josh Willingham had inning-starting homers for the AL Central-leading Kansas City Royals in a 6-3 win at Texas on Friday night.
The hard-throwing Ventura (10-9) allowed one run, four hits, and three walks.
Greg Holland worked a scoreless ninth for his MLB-leading 40th save in 42 opportunities after Wade Davis retired all three batters he faces to extend the majors' longest active scoreless streak to 22 2/3 innings.
Lorenzo Cain shook off a 2-for-14 slump with three hits for Kansas City, which won for the 23rd time in 29 games.
Butler led off the second with his eighth homer, tying the game at 1-all. Cain and Alcides Escobar, the bottom two batters in the Royals lineup, had consecutive RBI singles in that inning against Colby Lewis (8-11) to put Kansas City ahead to stay.
Willingham made it 4-1 when he homered in the fourth, his 14th overall and second in 10 games since the Royals acquired him on Aug. 11 from Minnesota. Cain led off the seventh with a double and scored on a grounder.
Lewis pitched exactly one year after right hip resurfacing surgery. The 35-year-old right-hander is the first known major league pitcher to come back after such an operation.
Lewis retired the last eight batters he faced, and his only strikeouts came against the final two. He allowed four runs and six hits without a walk over six innings — four being 1-2-3 frames.