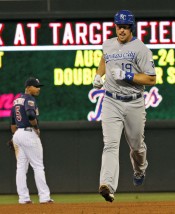 MINNEAPOLIS — Erik Kratz had played in only five games for Kansas City since being acquired from Toronto in a trade on July 28.
But the big guy always stayed ready and that discipline paid off Monday night to keep the Royals rolling.
Kratz homered twice after replacing an ailing Salvador Perez, and Jason Vargas pitched seven strong innings to lead the first-place Royals to a 6-4 victory over the Minnesota Twins.
Vargas (10-5) allowed one run on four this and struck out three, but had his scoreless innings streak snapped at 17 when Oswaldo Arcia hit a solo homer in the seventh. Perez had two hits and two RBIs before leaving in the seventh because of discomfort in his right knee, helping the Royals win for the 21st time in 26 games.
Kansas City extended its lead over the idle Detroit Tigers in the AL Central to two games. Trevor May (0-2) gave up three runs on seven hits and walked four in 4 2/3 innings for the Twins.
Greg Holland came on for his 38th save in 40 tries. Josh Willingham had three hits and Alex Gordon and Billy Butler each had two for the Royals, who have won eight straight series for the first time since 1991.