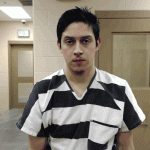 Update at 3:00 p.m.:
The defense called it's first witness to the stand-Criminalist out of Cameron, Missouri, John Cayton.
Defense Attorney, Ron Evans asked Cayton several questions about the gun that was allegedly used in this incident.
Cayton shared a few instances where similar guns have accidentally fired without people meaning to shoot them.
Prosecuting State Attorney, Sherri Schuck cross-examined Cayton, and first began by asking if it was true that he was discharged from the Kansas Bureau of Investigations and the Johnson County Crime Lab.  He replied, "I go through this every time I come here.  I resigned."
Her last question for Cayton was, "is this firearm functionally sound?" He answered, "yes".
The only other witness from the defense was Gonzalez himself.
Evans asked Gonzalez questions about his relationship with Bishop, as well as Bishop's sister.  He informed the court he knew Bishop since he was 12, and had been dating Bishop's sister for nearly four years.
Gonzalez stated several times that he had trouble remembering details, since he was so drunk on that night.  He also stated several times that he never meant to hurt Bishop.
"I pulled the trigger.  After that, I heard a loud bang.  I was still kind of shocked the gun went off.  At first he [Bishop] looked alright.  Then I looked back and he was bleeding and coughing.  I remember saying, 'I got to get you some help'. His [Bishop's] last words were 'I'm dying dude' ", said Gonzalez.
Gonzalez began to cry, as well as members of the audience.
Gonzalez stated he wanted to get Bishop some help, but was too drunk to successfully call 9-1-1.
Evans asked him if he has thought about this case the last nine months Gonzalez has been in jail.  He replied, "it's been the only thing on my mind since I've been in here [jail].  I'm responsible for Levi's death.  When I first got in here [jail], I felt like dying.  I knew his whole family, they trusted me, and now I'm responsible for their son's death", said Gonzalez.  He also commented, "sorry doesn't even explain how bad I feel.  I didn't intend for him to be hurt at all".
Schuck began her questioning by asking Gonzalez about his familiarity with guns.  He stated he owned guns, and was familiar with them.
Schuck then asked him questions about New Year's Day in particular, and asked him why he had the gun against Bishop's face.  He answered, "I didn't think there was a round chambered in there".
In her last question for Gonzalez, she asked "this shooting had nothing to do with a faulty trigger did it?"  Gonzalez replied, "no".
This was the end of the evidence presented in the case, and the case will resume Thursday morning at 9 a.m., when jurors will get instructions, and hear final comments, before deliberating.
Original Story:
The jury trial of Pablo Gonzalez (22), who is charged with second degree murder from an incident that occurred on New Year's Day where Levi Bishop (24) was found dead, is moving along quickly.
Prosecuting State Attorney, Sherri Schuck called her final witness to the stand-Kansas Bureau of Investigations Forensic Scientist, Cole Goater. Goater is the one who examined the semi automatic pistol that is said to have been used in the alleged shooting incident.
Goater explained that he first took part of the gun apart and fired it in a water tank to make sure it worked. He said he had no problem firing it, and all of the safety features were operating correctly.
When Defense Attorney, Ron Evans cross-examined Goater, he asked several questions about how you could tell the gun was loaded just by looking at it. Goater wore gloves, and showed different parts of the gun to the jury.
After Goater was dismissed, Evans tried to get both the second degree homicide charge and the aggravated assault charges dismissed for lack of evidence, as far as the intent of the incident. Both charges were denied by Judge Jeff Elder.