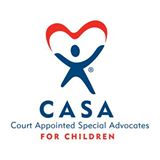 Sunflower CASA Project, Inc. has just been awarded certification by the National Court Appointed Special Advocate (CASA) Association. This certification recognizes that Sunflower CASA, serving Riley, Clay, and Pottawatomie Counties, is in compliance with National CASA's high standards for quality child advocacy.
 According to Michael Piraino, CEO of the National CASA Association, "The National CASA quality assurance process is very rigorous, and reflects our commitment to ensure every child we serve has the most powerful volunteer advocate working on their behalf. This certification says Sunflower CASA has demonstrated to us a strong capacity to provide excellent services to the abused and neglected children within their community."
 Sunflower CASA Project was started in 1988 by Judge Jerry Mershon, and volunteer advocates have served 1,250 victims of child abuse and neglect. More volunteer advocates are needed in order to reach our goal of serving every child in our three counties who needs a CASA, and fall training begins soon.
About the National CASA Association
In 1976, concerned over making decisions about abused and neglected children's lives without sufficient information, a Seattle judge conceived the idea of using trained community volunteers to speak for the best interests of these children in court, helping to ensure that they will live in a safe and loving environment. So successful was this Seattle program, that soon judges across the country began utilizing citizen advocates. In 1990, the U.S. Congress encouraged the expansion of CASA/GAL with passage of the Victims of Child Abuse Act. Today, there are more than 950 National CASA member programs across the country, with more than 70,000 men and women serving as CASA or Guardian ad Litem volunteers.