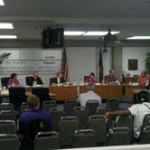 Although no public comment was provided during the budget hearing, held during Wednesday's meeting, a few Manhattan Ogden USD 383 school board members had some thoughts on the budget.
With classified employee wages, substitute employee wages, and administrative salary discussions all on the agenda, School Board Member, Dave Colburn pointed out the substitute teacher wages may need to be increased in the upcoming years.  Board Member, Darrell Edie seemed to agree with Colburn, as he said it is getting tougher to find replacement teachers.  Both Edie and Colburn seemed to believe the spring retreat would be a good time to discuss this topic further, and look more in depth at the substitute teacher wages.
Despite the minor concerns raised, the board approved the 2014-2015 budget on a 7-0 vote.
————
During Superintendent, Bob Shannon's spoken report, he mentioned a press release sent out earlier that day.
Manhattan High School ACT composite scores have been released, and yet again the school is above the state and national average.
The 2014 composite score for Manhattan High School was 23.1.  The state average is 22, and the national average is 21.  When looking at each individual subject within the ACT, the school still ranked above the state's average in all four subjects.
————-
Preliminary enrollment numbers were released earlier this month, as KMAN has reported, but numbers have been updated more recently.
Associate Superintendent, Robert Seymour said the original enrollment numbers showed the district was up 158 students, and now they are only up 143 students.  Seymour said this is fairly normal, and the number still looks promising.