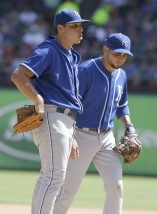 ARLINGTON, Texas(AP) — Scott Baker has found quite a niche with the Texas Rangers, and is winning again after Tommy John surgery.
Baker went five innings in a spot start to win as a starter for the first time in more than three years, helping Texas beat the AL Central-leading Kansas City Royals 3-1 on Sunday to avoid a series sweep.
"It's still special because of the road that I've had to endure as far as injuries," said Baker, who earned a win in relief in his previous appearance on Aug. 12. "It's fun, regardless of whether you're a starter or a reliever. And it's a good team win.
"
With Yu Darvish still on the disabled list and Miles Mikolas pushed back a day, Baker (2-3) threw 51 of his 71 pitches for strikes in difficult conditions with the temperature near 100 degrees. The only run on his line was Billy Butler's leadoff homer in the fourth.
"He certainly went beyond the call of duty to have not been out there in 11 days, and to go out there and throw the strikes the way he threw them," manager Ron Washington said.
Adrian Beltre put Texas ahead to stay with an RBI double in the first. Beltre had his fifth straight mulithit game, including all three games against Kansas City to extend his hitting streak against the Royals to 17 games.
Baker hadn't pitched since that relief win against Tampa Bay. That was his first victory since a start for Minnesota against Detroit on July 23, 2011, and ended a string of 26 consecutive appearances in losses.
"It's never been an issue, having that many days off from pitching, throwing the ball over," he said. "I've always been able to do that."
The 32-year-old right-hander missed all of 2012 after elbow surgery. He made three starts for the Chicago Cubs at the end of last season and has started five of his 22 games since joining the Rangers in June. He had made six relief appearances since his last start July 13.
Neftali Feliz worked the ninth for his sixth save in seven chances since reassuming the closer role a month ago after Joakim Soria was traded to Detroit.
Kansas City's Jason Vargas (10-6) allowed 11 hits and walked four in his six innings, but allowed only three runs. The left-hander had walked only one in 25 1/3 innings previously this month.
Texas had five doubles off Vargas, including a run-scoring hit for Adam Rosales in the second. Alex Rios had a leadoff double in the third, and scored on a single by Robinson Chirinos.
Chirinos started after catcher Geovany Soto was a late scratch. The Rangers announced during the game that Soto was traded to Oakland for cash.