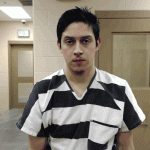 Jury selection took place on Monday in Pottawatomie County District Court, and witnesses were called to the stand on Tuesday, for the trial of Pablo Gonzalez.
As KMAN has previously reported, Gonzalez is charged with second degree homicide and aggravated assault, in connection with an alleged shooting incident where 24 year old Levi Bishop was found dead in a vehicle.  This incident is said to have occurred on New Year's Day.
A few individuals that said they were with Gonzalez at a party, on the night of New Year's Eve, were questioned.  John Syrokosz was one of those witnesses, and mentioned an encounter he had with Gonzalez.
According to Syrokosz, he was walking home during the early morning hours on New Year's Day and saw Gonzalez with a few other people.  Syrokosz said he observed Gonzalez with a gun while he was standing near a vehicle.
When Defense Attorney, Ron Evans cross-examined Syrokosz, Evans asked why he continued to walk towards Gonzalez after Gonzalez chambered the gun.  Syrokosz replied by saying, "I was 50 feet away from him, would you turn and run?"
Several law enforcement officers from the St. Marys and Pottawatomie County Sheriff's Offices were questioned.
Detective, Eric Green was notified of the incident after five o'clock that morning, on New Year's Day, and interviewed Gonzalez around three hours later.
Green said it appeared Gonzalez was under the influence, as he cried and kept saying Bishop's name .  According to Green, at times Gonzalez would also get mad about the situation, and claimed the trigger malfunctioned-which caused the shooting to occur.
Gonzalez informed Green during the interview that Bishop was his best friend, and he was dating Bishop's sister.
Green stopped asking him questions when he requested an attorney.
Just before two o'clock that afternoon, a search warrant was issued for Gonzalez's residence.  Green said ammunition was found in plain view, as well as a rifle.
When Evans cross-examined Green, he focused on the quick turnaround time for the interview.
Evans said the sheriff's department could have waited until the blood test came back to question Gonzalez, as he was clearly intoxicated during the interview.  Evans pointed out that Gonzalez was three times above the legal alcohol limit, was slurring his words, and was asleep before the interview actually began.
This case is expected to resume in court on Wednesday morning.