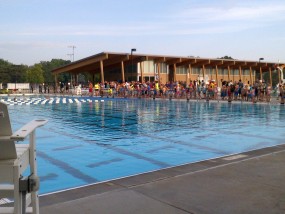 Over 150 kids participated in the HyVee Just Tri It Youth Triathlon in Manhattan City Park on Saturday morning.  Nearby streets were closed down during the race so that children could ride their bicycles on the roads safely.
Children began the race by doing a 50-100 yard swim (depending on age).  Once completing the swimming portion, they ran to a "transition area" where they quickly got on their bikes and hit the open road.  After putting their bikes back, they ended the race by running through the park.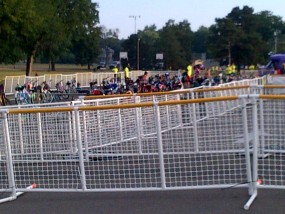 Chip timing systems were strapped on their ankles, in order to keep track of their times throughout the race. Permanent markers were used to put the kids's numbers on their arms, and their ages on their legs.
Once the participants reached the finish line, they were given finisher medals and some healthy snacks.  Kids also got water bottles, swim caps and t-shirts.  Awards were given in each age category later that day.