10 kills from Buffalo, Minnesota freshman Kylee Zumach led K-State volleyball to a straight sets victory over Green Bay 25-20, 25-15 and 25-23, the host school of the Country Inn & Suites Tournament on Friday night. Mississippi State transfer Brooke Sassin added seven kills and a team-high nine digs. Preseason all-Big 12 setter Katie Brand led a Wildcat offense that hit .253, and she contributed 31 assists.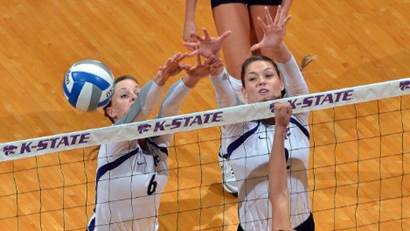 A menacing Wildcat front line also was a big story as they came thru with 12.5 blocks, led by by a career-high eight stuffs from Natali Jones. Zumach added five.
Green Bay (0-1) was topped by 10 kills from Taylor Kasal.
K-State (1-0) will take the court twice on Saturday in Green Bay before returning home. The Cats will duke it out with South Dakota at 10:00am at the Kress Center, with pregame at 9:30 on NewsRadio 1350 KMAN. The round-robin tournament will conclude for K-State against Arizona at 4:30pm, with exclusive coverage at kstatesports.com starting at 4:00. The Wildcats defeated the Coyotes in four sets in Friday's other match in Green Bay.