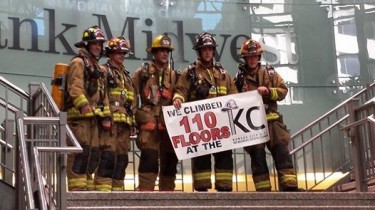 A group of firefighters stormed the stairs of the Town Pavillion in Kansas City on Saturday.
Manhattan Fire Department Captain Micah Hydeman says the event pays tribute to the huge amount of physical and mental valor of firefighters during 9/11.
Over 300 fire fighters from all over the midwest participate in the 110 story climb at the Town Pavillion in Kansas City. Those who complete the ardous task ring a bell at the end of the event.  Hydeman says it is a very emotional tribute to the firemen and families who attend the event.
Initially started in Afghanistan by a military fireman who climbed 110 stories in full battle rattle the annual stair climb now has spread across the country as a way for emergency workers and their families to come together, and remember the fallen.
 Organizers have put out a special training advice portion on their website for prospective participants that includes the use of stair climbing machines in full gear.