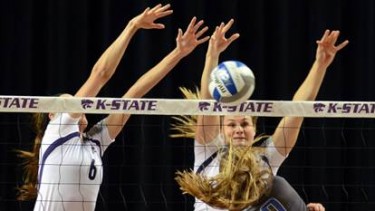 By Chris Kutz, K-State Athletics Communications
(Photo Courtesy Kansas State Athletics)
CARBONDALE, Ill. – Sophomore Brooke Sassin had a career-high 18 kills and the K-State volleyball team hit over .400 in the final two sets as the Wildcats swept Southern Illinois (25-22, 25-19, 25-16) on Friday at SIU Arena.
After setting a career-high with 17 kills in the early match on Friday against Marshall, Sassin registered the new career-high on Friday evening by hitting .350 (four errors, 40 attempts) to help K-State (8-1) capture its sixth straight win. Sassin also added a career-high three aces.
The K-State offense, after hitting .208 in the first set, finished the match by hitting .330, buoyed by a .440 clip in the third set. Setter Katie Brand directed the Wildcats by registering 42 assists, her most ever in a three-set match, while also adding 11 digs for her fifth double-double of the year.
"The difference in tonight's match was Katie Brand," said K-State head coach Suzie Fritz. "She kind of settled back in, really taking more initiative of our offense and being in charge."
Six Wildcats combined to make up K-State's 48 kills. Joining Sassin, redshirt sophomore Katie Reininger had nine kills, and freshman Kylee Zumach totaled eight kills. Natali Jones was efficient on her seven errorless attempts, dropping in five kills, while Chelsea Keating and Brand each had four.
"After about the first 10 points in set one, I thought we settled in a little bit," said Fritz about K-State getting 16 kills on its match-high 48 attempts in set one. "It's been really good for us to play and expect long rallies and be able to work through that because when we get to Big 12 play, kills are going to be a little more difficult to come by."
K-State trailed 11-8 coming out of a timeout in the first set, but an 8-1 run, featuring three of Sassin's seven kills in the first, put the Wildcats ahead, 16-13. K-State staved off the Salukis (3-6), who pulled within one at 21-20, before a combo block by Keating and Reininger followed by back-to-back kills from Reininger helped give the set to K-State.
While the Wildcats hit near .200 in the first, K-State hit an overwhelming .410 in the second. Brand had an assist on all of K-State's 18 kills in the second, a number built with the help of five Wildcats. Sassin led with five kills, followed by Zumach's four and three from Jones, Keating and Reininger.
K-State trailed very early in the third, but an 8-1 run, capped by back-to-back Saluki errors, gave K-State a 9-4 lead and forced Southern Illinois to call a timeout. Later, a block by Jones and Brand stretched the advantage to 19-12, a deficit the Salukis were unable to overcome. Sassin and Reininger combined for their second and fourth block of the match, respectively, for match point.
The Wildcats will look to finish first in the Saluki Invitational with their final match of the weekend on Saturday, September 13 at 11 a.m. against IPFW, which lost both of its matches on Friday.