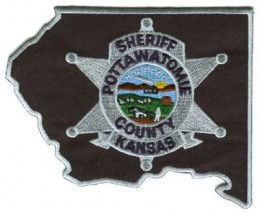 A 64-year-old rural Westmoreland woman was life flighted for treatment following an accident in Pottawatomie County KMAN first announced early Monday afternoon. Alice Thomas was driving a 2003 Ford Taurus, when the vehicle left the roadway,striking a field entrance and rolling–landing upside down, on its top. Thomas was extricated from the vehicle by rescue crews and life flighted.
The Pottawatomie county Sheriff's office responded to the accident in the area of Myers Valley road and K-18 at about 1:30 p.m. Emergency units responding included Kansas Wildlife and Parks Officer, Sheriff Deputies, Pottawatomie County EMS, Olsburg Fire, Blue Township Fire and Manhattan Fire-Rescue..
###
KMAN received word of an injury accident in southwest Pottawatomie County around 1:30 p.m. on Monday.
Authorities have confirmed the accident occurred on the intersection of Highway 13 and Carnahan Road.  Injuries were sustained during the one vehicle car accident, and Lifestar was dispatched to the scene.
Early reports indicated one individual was trapped under the vehicle prior to Lifestar's arrival.