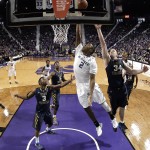 By Tom Gilbert, K-State Athletics Communications
K-State Athletics announced additional game times for the men's basketball season, including its first seven home non-conference contests on Friday.
The Wildcats' lone exhibition contest with Washburn will tip at 2 p.m. CT on Sunday, Nov. 9, while the regular season opener against Southern Utah will start at 8 p.m. CT or 30 minutes after the conclusion of the women's opener with Southern Illinois-Edwardsville on Friday, Nov. 14. Other game times announced include UMKC at 7 p.m. CT, on Monday, Nov. 17, Nebraska-Omaha at 7 p.m. CT, on Tuesday, Dec. 2, Bradley at 7 p.m. CT, on Tuesday, Dec. 9, Savannah State at 5 p.m. CT, on Sunday, Dec. 14 and Texas Southern at 2 p.m. CT, on Sunday, Dec. 28.
The Bradley game will be seen exclusively on the internet at ESPN3.com or on the ESPN Full Court package.
In addition, the department announced several game time updates to the Big 12 schedule. The home game with Texas Tech on Wednesday, Jan. 14 will now tip off at 7 p.m. CT, instead of the previously announced 8 p.m. CT, while the home contest with Baylor on Saturday, Jan. 17 will start at 2 p.m. CT. The road return against the Bears at the Ferrell Center in Waco, Texas will also tip at noon CT on Saturday, Jan. 21. The final two regular season games – a home game against Iowa State on Saturday, Feb. 28 and the road finale at Texas on Saturday, March 7 – will air on either ESPN or ESPN2 at 1/3/8 p.m. CT. An exact time and television channel will be announced 11 days prior to these contests.
A complete television list, including the seven-game FOX Sports package, will be released in the coming weeks.