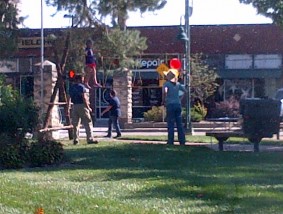 Birthdays are celebrated in Aggieville all the time, but this Saturday may have been the biggest birthday bash of all- Aggieville's 125th birthday!
The streets of Aggieville were blocked off all day for the various activities taking place within the business district.
The parking lot near Varney's was crowded with children, as the kid's carnival was located in that area.  A stage directly in front of Varney's showcased several live performances throughout the day.  The 1100 block of Moro Street was dedicated to the mini-maker fair, and 1000 block of Moro Street played host to the antique car show.
Events took place in Triangle Park throughout the day as well, including history in the park, carriage rides, and storytelling.
The birthday celebration concluded with the giant-donut birthday cake, and the street dance and concert.