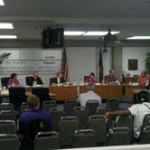 Out with the old, in with the new.  A request was made by Director of Transportation, Doug Messer to purchase five new buses and dispose of five old buses, during Wednesday night's Manhattan Ogden USD 383 school board meeting.
Messer highlighted a new web site put together by the Kansas Department of Transportation that allows school districts to look into prices of buses from different companies, as well as view the features each bus has.  The department actually goes out and puts the buses to bids for the districts.  He said it has made the process much easier.
School Board Member, Darrell Edie commended Messer on staying $77,000 under what he budgeted for the buses this year.  Edie made a motion to approve the request to replace five buses that did not pass inspection this year.  One of these buses is a special needs bus, which will be purchased new-as Messer and the board believe those students who ride those buses need the best conditions possible.  The request was approved unanimously.
—-
Another item was approved unanimously during the meeting, involving the CiCo Park permanent drainage project.  Manhattan City Commissioners and Riley County Commissioners have provided input on this project previously, and the board seemed to agree with their ideas.
The final easement of this project was approved unanimously.
—-
A total of 205 students are currently enrolled in Manhattan Ogden USD 383's virtual education program.  This number includes several different types of students, including part time and full time.
Manhattan Virtual Academy Director, Brooke Blanck provided an update on the virtual academy, as there are currently 88 courses taught by 11 different teachers.