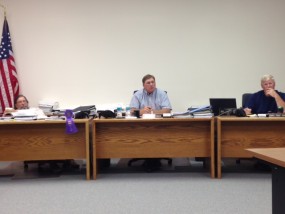 Pottawatomie County Commissioners are considering changes when it comes to inspections and building permits–and Geary and Riley County officials shared thoughts on the way they handle such matters during Monday's meeting in Westmoreland. David Yearout, Junction City/Geary County Planning and Zoning Director, shared his county's method, with the same requirements in Junction City, Milford, and Geary County.
Yearout also shared his experiences in other parts of the state where he's worked. In addition to Geary County, Yearout listed counties currently with a county wide planning and building code system, including Johnson, Miami, Franklin, Douglas, Sedgwick, Butler, Finney, and Seward counties.
The Geary County official did suggest they consider a different term than building permit under the current system–which gives the connotation that an inspection is involved. He says in Butler county they changed the term building permit to zoning certificate.
Mark Karmann has been working with Junction City/Geary County Planning and Zoning for 20 years–and the Chief Inspector had some words of wisdom for Pottawatomie County commissioners during their meeting Monday. Karmann told the group if they intend to change the way they do things, it may take some education of residents in unincorporated areas. Reference was made to one Geary County resident who was attempting to build a home in a flood plain.
While nothing was decided, commissioners had several questions about liability or what they should do–Commissioner Pat Weixelman indicated its something they need to look at, especially with an additional 800 to 900 houses expected in the Green Valley area in the next 10 years.
Riley County Planning and Special Projects Director Monty Wedel told the group at its meeting in Westmoreland that his county has also wrestled with the issue. Wedel adds working with the city of Manhattan didn't seem to be an option, as their inspector wouldn't have time to assist. But the Riley County official had a suggestion for Pottawatomie County commissioners of maybe sharing an inspector with Pottawatomie County, so a full-time inspector doesn't have to be hired.
Pottawatomie county officials seemed to be receptive to such a possibility but no action was taken.
Commissioners also had updates from Public Works Director Leu Lowrey, Health Director Leslie Campbell, and County Treasurer Lisa Wright. Lowery, Campbell and County Administrator Robert Reece are guests on KMAN's "In Focus" Tuesday (9-23) morning.