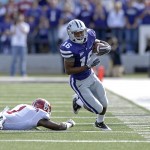 After Saturday's thrilling 32-28 comeback win over Iowa State in their Big 12 opener, the Kansas State Wildcats Football team didn't move up much in the rankings and stayed in the same spot in one poll.
K-State is 19th in the Associated Press Coaches Poll and ranked 20th in the USA Today Coaches Poll.
The Wildcats will be off this week and see their next action on September 18 when they welcome 5th-ranked Auburn to Bill Snyder Family Stadium.