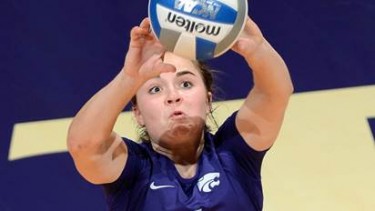 By Chris Kutz, K-State Athletics Communications
ANN ARBOR, Mich. – Freshman Kylee Zumach's career-high 25 kills helped make up a trio of Wildcats who had double-digit kills on Friday as the K-State volleyball team fought off Eastern Michigan for a 3-2 win (28-30, 25-11, 25-20, 16-25, 19-17) in Cliff Keen Arena at the Michigan Invitational.
Zumach, who had half of the Wildcats' 14 kills in the final set, led K-State (11-1) in the kill department, while redshirt sophomore Katie Reininger also established a career-high in kills with 15. Sophomore Brooke Sassin fell one short of tying her career-best as the outside hitter had 17 kills along with 11 digs for her first career double-double.
The career-highs in kills for Zumach and Reininger were not the only personal bests for the Wildcats. Sophomore Kersten Kober had 31 digs, the most by a Wildcat since Lauren Mathewson had a program-record 41 digs on Nov. 4, 2009 (Texas A&M), while redshirt sophomore Katie Brand had 62 assists, besting her previous high of 59. Brand also had 12 digs, helping her tally her sixth straight double-double and eighth overall this season.
The win for the Wildcats not only extended their active winning streak to nine matches, but it also gave them their 13th consecutive win in a five-set match, a streak that dates back to 2011.
The fifth set was a back-and-forth affair that capped a match that saw Eastern Michigan (7-4) come back to win the first and fourth sets while K-State outmatched the Eagles in the second and third. The final set had 10 ties and two lead changes, with the Wildcats pulling to match point five times before senior Chelsea Keating's eighth kill of the match sealed the deal for K-State.
The Wildcats hit .357 in the fifth, led by Zumach's .636 attack percentage on 11 unblemished attempts. For the match, K-State hit .270, compared to Eastern Michigan's .210.
K-State led for most of the first set, building as much as a six-point lead, 19-13, and pulled within set point on three occasions on the back of Reininger's seven kills in the first. The Eagles clawed back, though, tying the match at 26-26 with a kill by Devon Murray and taking themselves to set point at 27-26 following an attack error by Keating. Neither side relinquished control until a kill by Stacey Perinar and attack error by Sassin gave the Eagles the first set in extra points.
The Wildcats wasted little time crawling back into the match as they overpowered the Eagles with a .414 hitting percentage in the second set, compared to Eastern Michigan's .000 (8 kills-8 errors-30 attempts). K-State had only two attack errors in the second while five different Wildcats had at least two kills, led by four from Zumach.
K-State once again balanced its offense and defense coming out of the set-two break, with the offense hitting .310 and the defense limiting the Eagles to a .158 clip in the third. Zumach (6) and Sassin (5) combined for 11 of K-State's 19 kills while Brand guided the offense with 16 assists.
In the fourth, K-State scored eight of the first 10 points, with three coming the way of kills by Sassin, but over the remainder of the set, the Wildcats only scored eight of the remaining 31 points. The Wildcats' hot start to the fourth was cooled to a .075 hitting percentage for the entire set as K-State had seven attack errors.
In the nightcap, the K-State volleyball team had 23.5 team blocks on Friday evening, the most in school history for a four-set match, to help power the Wildcats to a 3-1 win (19-25, 25-17, 25-13, 25-10) on the road against Michigan at Cliff Keen Arena.
K-State (12-1) overcame a first-set defeat by bouncing back with 21.5 of its 23.5 blocks over the final three sets, holding the Michigan (4-5) offense to a .021 hitting percentage for the match. After the first set, in which the Wolverines hit over .300, Michigan hit -.081.
"This was a big day for us," said K-State head coach Suzie Fritz. "We showed tremendous toughness and resilience bouncing back after a five-set match this morning [against Eastern Michigan]and a loss in the first set this evening."
Three Wildcats had at least 10 blocks, led by a career-high 13 from redshirt sophomore Katie Reininger and followed by 11 from redshirt sophomore Katie Brand and 10 from redshirt senior Natali Jones. The 13 blocks by Reininger were the most by a Wildcat since Kaitlynn Pelger had 14 on September 8, 2011 at Missouri State.
"After set one, we were able to get our serving going, which kept [Michigan's] quick hitters from being as involved in the match and allowed us to be better defensively," said Fritz. "We did a tremendous job getting our hands on a lot of balls, both at the net and in the back row as well. [The coaching staff is] very proud of the team and how hard they played today."
The win over Michigan extended K-State's winning streak to 10 matches, its longest since it opened the 2012 season on a 12-match winning streak.
Reininger paired her double-digit blocks with double-digit kills, 14 of them, to record her first career double-double.
Brand, meanwhile, became the first Wildcat since Caitlyn Donahue in 2011 (Oct. 26 vs. Missouri) to register a triple-double. The setter had 42 assists and 10 digs to go with her career-high 11 blocks. Brand became just the ninth Wildcat in school history to notch a triple-double.
Reininger was matched by freshman Kylee Zumach for the team-lead in kills with 14. Zumach had one attack error on her 32 attempts, helping her hit .406. Reininger, meanwhile, tallied a career-best .522 hitting percentage on her 23 attempts.
After Michigan erased an early K-State lead in the first set by hitting .364, K-State's defense answered the call beginning in the second when it had seven blocks and held Michigan to a .000 hitting percentage. With the defense standing tall, the Wildcats used an 8-1 run midway through the set, which featured three block assists by Reininger as well as three kills from sophomore Brooke Sassin, to open an insurmountable lead.
In the third, the K-State defense one-upped itself by posting eight blocks, limiting Michigan to a negative hitting percentage. The Wolverines had 10 attack errors against their seven kills while K-State had just two errors against its 12 kills.
The fourth set was all K-State after a kill by redshirt senior Chelsea Keating, one of her three on the night, sparked a run of 11 straight points by K-State that opened a 19-7 lead. A service error by Keating interrupted the run, but kills by Reininger and Brand along with two team blocks allowed the Wildcats to close out the match by scoring six of the final eight points.
K-State will end the Michigan Invitational as well as its nonconference schedule for the 2014 regular season on Saturday at 1 pm ET/12 pm CT against Youngstown State. The Penguins were swept in their first two matches on Friday.