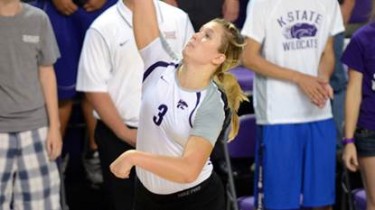 (Photo Courtesy Kansas State Athletics)
By Chris Kutz, K-State Athletics Communications
Three different Wildcats reached double figures in kills, including a team-high 15 from sophomore Brooke Sassin, as the K-State volleyball team swept Arkansas 3-0 (25-18, 25-15, 25-16) in the opening match of the Varney's Invitational in Bramlage Coliseum.
As a team, K-State (3-1) hit .429 for the match, with redshirt senior Chelsea Keating hitting a team-best .588 (11 kills, one error, 17 attempts) and Sassin checking in with a .583 clip (15 kills, one error, 24 attempts). Freshman Kylee Zumach hit .346 and had a career-high 12 kills.
The Wildcats never allowed Arkansas (3-1) to lead throughout the entire match as K-State extended its winning streak against Arkansas to seven matches. The Wildcats have also won 13 straight matches against non-conference opponents at home.
"I thought we played extremely well, which is kind of uncharacteristic for me to say," said K-State head coach Suzie Fritz. "We have been working a lot on establishing offensive rhythm – defining the tempo, the rhythm, and the speed that we want to play in first-swing offense – and some of that work is really starting to come together for us."
Keating was one of two Wildcats who had a double-double. The outside hitter posted her first career double-double with 10 digs to go with her 11 kills. Redshirt sophomore Katie Brand had a season-high 40 assists and 11 digs for her second double-double of the young campaign.
"Our sets were very accurate tonight," said Keating. "We were in a great position, and we were able to see everything in front of us during the match."
Seven of Keating's 11 kills came in the first set, with her second making it 9-7 and sparking a 4-0 run that allowed the Wildcats to pull away. Keating scored the final three K-State points on kills, giving the Wildcats the set, 25-18.
While Keating excelled in set one offensively, Sassin shined in set two, leading the Wildcats with eight kills and hitting .800. The transfer from Mississippi State bookended the set with kills, committing no errors and helping K-State hit .424 and not allowing Arkansas to lead or tie the score throughout the set.
The Wildcats outdid themselves in set three, committing just one attack error and hitting .533 for the entire set. Zumach had five kills and no errors on her 11 attempts to lead the attack while Sassin and Keating contributed three kills apiece.
With the score tied at 4-4 early in the third, K-State went on a 6-1 run, capped by a kill from Sassin, to make it 10-5 and force Arkansas to call a timeout. The Wildcats rattled off six of the next 10 points, which included a pair of aces from Keating.
K-State returns to action for its second match of the Varney's Invitational on Friday, September 5 against Middle Tennessee. First serve is at 7 pm in Bramlage Coliseum.