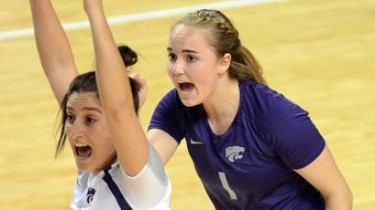 (Photo courtesy Kansas State Athletics)
By Chris Kutz, K-State Athletics Communications
Led by a career-high 14 kills from Katie Reininger and a stout defense, the K-State volleyball team dealt UCF its first loss of the season with a 3-0 sweep (25-18, 25-23, 26-24) on Saturday. With the win, the Wildcats captured first place in the Varney's Invitational in Bramlage Coliseum.
A redshirt sophomore, Reininger tallied the 14 kills on a .429 hitting percentage as she was one of two Wildcats to reach double digits in kills and hit over .400. Freshman Kylee Zumach had 11 kills, her third straight match with at least 10 kills, and hit .458.
Reininger and fellow redshirt sophomore Katie Brand were named to the all-tournament team while Zumach earned MVP honors. Brand had 40 assists, nine digs, three kills – including a kill for match point – and two blocks against UCF.
Despite winning by seven points in the first set, K-State (5-1) had to fight off UCF (6-1) in the second and third before persevering for its third straight sweep this season in front of its home crowd.
"These are the kind of matches we want to be in right now – the ones that test your ability to stay focused and test your composure," said K-State head coach Suzie Fritz. "Those are the kind of matches we want to be in especially if we come out on the winning side of it."
The Wildcats limited a UCF offense, which was hitting over .340 on the season entering the night, to a .143 clip for the match. In the first set, K-State held UCF to a .054 hitting percentage and had 5.5 of its 6.5 team blocks.
The stingy defense was helped by the K-State back row that tallied 59 digs to UCF's 48. Sophomore Kersten Kober had a team-high 17 digs while senior Gina Madonia and redshirt sophomore Sheridan Zarda each had 11 digs.
"[Tonight] is really going to help us, because we got to experience what it is like in those tight pressure games where we have to make the quick turnaround," said Reininger. "It is really good our team got to play a variety of different teams in those different situations this weekend."
Reininger had all three of her blocks in the first set, including one during a stretch in which she scored four straight points for K-State. Two kills and a block by Reininger midway through the set made it 18-13 and were part of a 9-2 run by the Wildcats that stretched the advantage to 21-14.
K-State had to come from behind midway through set two when it trailed 14-12. A kill by Brand followed by two aces from Zarda and an attack error by UCF flipped the score in favor of K-State, 16-14.
UCF did regain the lead later in the second after a kill from Abbie Fleener that made it 19-18, but three kills from Chelsea Keating over a six-point stretch helped return the advantage back to the Wildcats, 22-21, before K-State sealed the set win on a kill by Zumach.
Reininger and Zumach had seven and six kills, respectively, in the third to help K-State register a match-high 18 kills in the set. One of those kills by Reininger made it 20-20, helping erase a late two-point deficit for K-State and force the Knights to burn its final timeout.
The Wildcats faced match point twice, but back-to-back kills from Reininger and Brand eventually sealed the fifth sweep of the season for K-State.
The Wildcats return to action on Monday, September 8 in their normal home of Ahearn Field House. K-State and Missouri State will meet in a 5 pm match.
"Our fans made Bramlage a home away from home for us," said Fritz. "[This weekend] has been tremendous. Bramlage is a great venue to host a tournament like this."