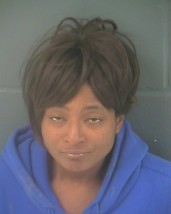 An unusual pursuit is being reported by the Geary County Sheriff's Office. On Sunday evening at about 8:00 pm a deputy from the Geary County Sheriff's Department stopped to assist what appeared to be a disabled motorist on I-70 at mile marker 305.
Contact was made with a female subject, who began showing signs of an asthma attack and the deputy called for EMS to respond. The subject was placed in the patrol car in an attempt to calm her down and await medical treatment.
The suspect jumped into the driver's seat and departed the area leaving the deputy standing alongside the roadway. Other deputies in the area quickly responded giving chase west on I-70 towards Junction City. At about mile marker 299, stop sticks were deployed, the suspect struck the sticks and the vehicle was stopped a very short distance later. The suspect was taken into custody without any further incident.
At the end of the pursuit two other Sheriff's Department vehicles were inadvertently spiked by stop sticks left on the roadway by a Grandview Plaza officer. One of those vehicles lost two tires, the other lost one.
The suspect was later identified as Lacreisha Hoylem 31,  of Lawrence; Ms. Hoyle has warrants outstanding from other jurisdictions. She is now facing numerous charges in Geary County with more to follow as this investigation continues.
No one was injured during this pursuit.