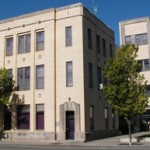 Thursday's K-State Football match-up against Auburn is expected to draw record breaking crowds.  Gates will open at 1:30 that afternoon, which means heightened traffic along Kimball Avenue and surrounding roads.
During Monday's Riley County Commission meeting, RCPD Lt. Erin Freidline shared the traffic plans with commissioners.
According to Freidline, the first focal point will be Kimball Avenue, as they will try to relieve the traffic congestion when people are entering the stadium parking lots.
She advised people who will not be attending the game to use side streets when driving home that day.
Friedline also asked that local residents be mindful and patient with the large crowds.
——————
During the public comment portion of the meeting, a local man shared his concerns regarding a wood pile within the county.
The man said several county residents used to access the pile of wood, but are now no longer able to do so.
The man also presented the commission with copies of a packet he created entitled "Shepherd's Resources".  He included pictures to help illustrate how large the pile of wood is, and said it could cover an entire football field.
Commission Chair, Robert Boyd assured the man they would research the problem.