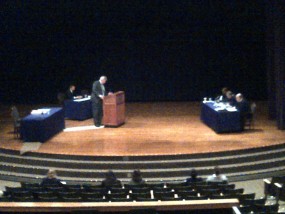 In conjunction with the United States Constitution Day observance, the Kansas Court of Appeals heard six hearings in K-State's Forum Hall, in the student union, on Tuesday.
The first case heard by the three judge panel was out of Marshall County.  In this case, the City of Marysville charged Matthew Sain in municipal court with one court each of domestic battery and disorderly conduct.
Allegedly the court refused to compel one of the City's witnesses.  This case was dismissed, and it was subsequently appealed to the district court.  The district court dismissed the City's appeal.
The City appealed yet again, which was the reason it was brought to the Kansas Court of Appeals.
The second case reviewed by the panel originates from Riley County, and KMAN reported on it two years ago.
John Goodpasture Jr. was convicted on 21 counts of sexual offenses, including rape and aggravated indecent liberties with a child.  Goodpasture was sentenced to life in prison in November of 2012.  After he received his sentence at that time, Goodpasture said "I intend to appeal everything".
This case was brought before the Kansas Court of Appeals yesterday (Tuesday), as they were in session at K-State's Forum Hall.  It appears Goodpasture followed through with his statement, and is appealing the case.
Defense Attorney, Bobby Heibert Jr. asked that the court grant them a brand new trial.  Prosecuting State Attorney, Bethany Fields asked that the request be denied.
Although no decisions were made during the cases, written opinions will be issued on these cases, as well as the other four, in 60 days.
The judges allowed students in attendance to ask questions after each case.