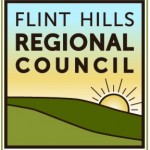 The Flint Hills Regional Council announced that as of September 1, 2014 William J. Clark has officially resigned from his one-year post as the Flint Hills Regional Council (FHRC) Executive Director, in order to continue full time as Director of Business Operations for the USD 475 Geary County School District.
The FHRC Board of Directors has appointed Gary Stith, who had previously filled the role of director both on an Interim and Deputy basis, as the new Director effective immediately.  Stith is an associate professor (part-time) in Regional and Community Planning at Kansas State University.  As the new Director, Stith brings extensive experience in successful community planning, local economic development and project management to the FHRC.
The Flint Hills Regional Council is a voluntary association comprised of twenty-six members, including Chase, Geary, Lyon, Morris, Riley, Pottawatomie and Wabaunsee counties, their respective municipalities, Fort Riley, Emporia State University and Kansas State University.  The FHRC works to promote regional cooperation and collaboration throughout the Flint Hills, and is the fiscal agent for the Flint Hills Metropolitan Planning Organization and the Flint Hills Regional Transit Administration.  To learn more, please visit the FHRC website at www.flinthillsregion.org.
This announcement was made Tuesday afternoon in a press release.