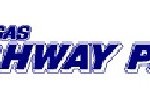 Five people were taken to the hospital following a two vehicle accident in Geary County late Monday morning.  Jovan Toles, 19, of Junction City, Colton Barnes, 8,  McKenzie Barnes, 3,  Adalyn Barnes, 5, and  Madison Hearn, 3, all of Illinois, were taken to Geary Community Hospital.
The Kansas Highway Patrol reports the accident occurred on I-70 eastbound, about two and a half miles from Junction City, when a 2010 Dodge Caravan driven by Kristen Barnes, 33, of Illinois was slowing for a wide load up ahead. Toles was driving a 2005 Mazda and came upon Barnes' Dodge, and tried to steer away to avoid contact. His vehice struck the Dodge caravan in the rear passenger side, causing the Dodge to spin out of control on the Interstate. Toles' vehicle slid to a stop on the south shoulder.
The accident was reported at about 11:45 a.m. Monday. Everyone had safety restraints.