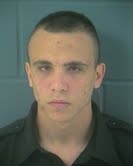 A Manhattan man entered a plea the end of last week in Geary County District Court to two counts of aggravated indecent solicitation of a child. Trevor Triffet was arrested May 20th on the charges, with the victim identified as a 12-year-old female. Triffet's sentencing is set for October 31st.
Also the end of last week, a preliminary hearing was held in another case involving a child. William Cordray was bound over on six counts of aggravated indecent liberties with a child. Cordray was taken into custody by Junction City Police in June. His arraignment is set for September 17th.
And an October second preliminary hearing is set in Geary County District Court for Jason Nazario, who is accused of raping a 13-year-old last December. There have been several continuances for a preliminary hearing.
And a 27-year-old Junction City man facing fleeing and eluding, obstruction, and driving while suspended charges is receiving a new attorney appointment at his request. Devoris Newson has a status hearing Thursday (Sept. 4) in Geary County Court. Newson also faced charges in Riley County after a two county chase involving law enforcement authorities last November.