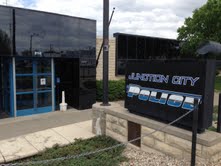 Junction City Police are closer to enforcing a fairly new city ordinance, regarding listening or talking on wireless communication devices while driving.  As previously announced on KMAN,  the Junction City Commission approved the ordinance earlier this summer, which essentially bans drivers from talking on their cell phones while driving, unless its through a hands free device.
The Junction City Police Department since that time has awaited the installation of signage around entrances to the City which notifies drivers of this new ordinance and to date have taken no enforcement action. The Police Department has been advised that all signage is in place and effective Monday September 15th will begin issuing warning citations for a period of four weeks in hopes of educating the public of this new law. 
The Junction City  Police Department will vigorously enforce this ordinance once the four week warning phase is over on October 13th.