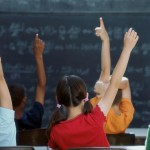 Final enrollment numbers for local public schools are in.
Manhattan Ogden USD 383 reported they are up 91 elementary students and 46 high school students from last year. The total for their district is 6,991 students. This figure includes virtual students and pre-schoolers.
Blue Valley/Randoloph's USD 384 is up three students to a total head count of 200.
Riley County USD 378 reported their final enrollment figure for K-12 was 674 students.
Rock Creek USD 323 reported they had a total of 948, which is 44 higher than last year.
September 20th is usually the official count date, but since that date hit on a weekend–Monday the 22nd was the official day.