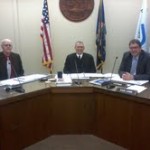 Five bids were submitted for the multi-layer polymer concrete overlay projects.  A bid opening was held during Thursday's Riley County Commission meeting.
The bids were as follows:
Mill Valley Construction Inc. of Shawnee Misssion-$138,950
Wildcat Construction Co. Inc. of Topeka-$128,233
PCiRoads of St. Michael, Minnesota-$150,720
B&B Bridge Company LLC of St. Paul-$198,693
Bettis Asphalt and Construction Inc.-$108,923
An engineer's estimate of $168,020 was also submitted.
All five bids were approved to move forward for staff evaluation and recommendation.
—————-
Pre-cast box culvert projects were discussed during the meeting.  Public Works Director, Leon Hobson presented on this item, and mentioned there are five culvert projects he has sent out to bid with McPherson Construction.
The commission approved all of the bids.
—————-
Several staff updates were presented during the commission meeting.  Appraiser, Greg McHenry; Planning/Special Projects Director, Monty Wedel and Community Corrections Director, Shelly Williams all shared reports.
—————-
The commission will be attending the "Coffee and Conversation" with the League of Women Voters of Manhattan/Riley County this Saturday at 10 a.m. at the International Grain Institute here in Manhattan.
Since all three commissioners will be in attendance, this will be considered a special commission meeting.