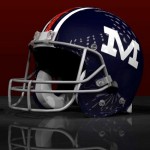 Running Back Chris Martin scored a touchdown from five yards out with 9.8 seconds left in the game to give the Manhattan High School Football team a thrilling come from behind 28-25 victory over Shawnee Heights in the 2014 season opener for both teams Friday night at Bishop Stadium.
In what turned out to be a back and forth game, Manhattan built up a 21-7 first half lead thanks to a pair of touchdowns by Martin and a one-yard run by Quarterback Erik Prockish. However, the Thunderbirds who haven't beaten the Tribe since 1985 got back into the game before halftime thanks to the second of Tony Barksdale's touchdowns from 11 yards out. Barksdale displayed his impressive speed on a 47-yard scamper in the first quarter. Then Quarterback Camden Wheatley connected with Austin Hubert from 29 yards out on the final play of the first half to cut the lead to 21-19.
Shawnee Heights took the lead with 8:12 left in the game when Wheatley found Hubert for another score. It appeared Shawnee Heights would have the opportunity to put the game away but Luke Stegeman stepped in front of a Wheatley pass with five minutes left which allowed the Indians to begin the winning drive. The Tribe got another chance on the game-winning drive when Prockish was sacked but officials ruled that a Thunderbirds defender grabbed him by the facemask allowing the drive to continue and Martin dove in from the one-yard line two plays later.
Manhattan (1-0) will hit the road for the first time this season next Friday when they travel to the Topeka area to face Seaman. Kickoff is set for 7 p.m.