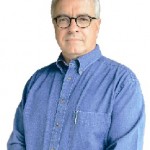 KMAN received word that Rod Harms has been selected as the new Aggieville Business Association Executive Director.
Harms is a K-State graduate who lives in Manhattan, and is active in the community.  He has served on several local boards and committees, including the County/City Wildcat Creek Working Group, the Attractions Committee for the Flint Hills Discovery Center, and the Konza Rotary Club.
Harms also ran for the District 3 Riley County Commission seat against current commissioner-Ron Wells in 2012.
KMAN is still currently waiting on a statement from Harms.