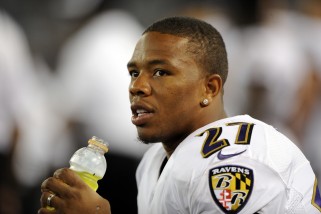 ATLANTIC CITY, N.J. (AP) Ray Rice and Janay Palmer can be heard shouting obscenities at each other, and she appears to spit in the face of the three-time Pro Bowl running back right before he throws a knockout punch in a video shown to The Associated Press by a law enforcement official.
The video, shown to the AP Monday night, includes audio and is longer than the grainy TMZ Sports video released earlier that day. After the TMZ video made its way around the Internet, the Baltimore Ravens cut Rice and the league suspended him indefinitely. Rice was originally suspended for two games and coaches and others had praised his behavior since the arrest for striking his then-fiancee in February.
The videos show Rice and Palmer in an elevator at an Atlantic City casino. Each hits the other before Rice knocks Palmer off her feet and into a railing. Months ago, a TMZ video showed Rice dragging Palmer, now his wife, from the elevator at the Revel casino, which closed on Sept. 2.
The higher-quality video shown to the AP shows Rice made no attempt to cover up the incident. After Palmer collapses, he drags her out of the elevator and is met by some hotel staff. One of them can be heard saying, "She's drunk, right?" And then, "No cops." But Rice didn't respond.
The video was shown to the AP on condition of anonymity because the official isn't authorized to release it.
Coach John Harbaugh said he met with Ravens owner Steve Bisciotti, team president Dick Cass and general manager Ozzie Newsome after they saw the TMZ video, and they made the decision to let Rice go.
"It's something we saw for the first time today, all of us," Harbaugh said. "It changed things, of course. It made things a little bit different."
The action represented a complete reversal for the team, even though an Atlantic City police summons stated that Rice caused "bodily injury to Janay Palmer, specifically by striking her with his hand, rendering her unconscious."
The Ravens had used words like "respect" and "proud" in referring to Rice following his arrest.
When the NFL announced Rice's two-game suspension for domestic violence on July 24, Newsome said: "We respect the efforts Ray has made to become the best partner and father he can be. That night was not typical of the Ray Rice we know and respect. We believe that he will not let that one night define who he is, and he is determined to make sure something like this never happens again.
Asked Monday night if Rice misled him, Harbaugh said he didn't want to get into "all that."