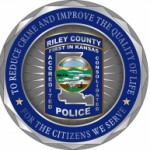 A 30-year-old Manhattan man faces charges which include manufacture of methamphetamine, following his arrest shortly after 9:30 Wednesday night. Matthew Sundgren was placed under arrest in the 7600 block of Cedar Creek Road in Manhattan, which is located in Pottawatomie County.
Other charges include possession of drug paraphernalia, and unlawful use of a telecommunications device. Sundgren is currently being held at the Pottawatomie County Jail.
This arrest was a result of a joint investigation conducted by the Pottawatomie County Sheriff's Office and the Riley County Police Department.
###
Riley County Police officers responded to an apartment in the two-thousand block of College Avenue Wednesday night, shortly before 9:30, for a citizen complaint of marijuana odor. Officers arrived on scene and conducted an investigation into the odor of marijuana.
As a result of the investigation Jacob Vestwebber, 18, of  Manhattan was placed under arrest for possession of marijuana with intent to distribute, possession of a controlled substance, and possession of drug paraphernalia. Vestwebber's bond was set at $5,000.
####
A 21-year-old female reported that in December 2013 an acquaintance known to her sexually assaulted her at a location in Manhattan. The intial report was filed through another agency and has since been forwarded to the Riley County Police Department. RCPD is currently investigating the incident.