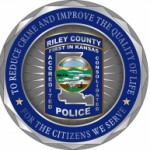 Riley County Police made several drug related arrests early Friday morning,  at approximately 2:30 AM.
Damon Brown, 39, of Junction City was arrested in the 400 block of Pierre Street for sale of methamphetamine, use of a communication device to facilitate drug transactions, conspiracy to sell methamphetamine, possession of drug paraphernalia, and possession of methamphetamine. Brown's bond was set at $7,000.
Also arrested as a result of this investigation was Stacey Stoddard, 43,  of Manhattan. She was arrested for possession of methamphetamine and possession of drug paraphernalia. Her bond was set at $2,000. 
Candy George, 46, of Manhattan was arrested at the same time and place. Her arrest was for the offenses of conspiracy to distribute methamphetamine, and possession related charges, with a $4,000.
###
A Missouri man faces a variety of charges in Riley County, with his arrest by Riley County Police Thursday afternoon.  Jonathan Allen II, 28, of Springfield, Missouri was arrested on a warrant for the offenses of failure to appear and motion to revoke probation. 
Allen was arrested on these warrants at the Riley County Police Department with a bond of $4,500. However original offenses included obstructing official duty and driving while license was revoked after being declared a habitual violator. Allen was also arrested on a warrant for possession and possession of drugs within 1,000 feet of a school, unlawful sale of a depressant, stimulant, or hallucinogen and no Kansas drug tax stamp. His total bond including all warrants was listed as $7,500.
###
A warrant from the U-S Department of Homeland Security has led to the arrest of  Mohammed Abduljabbar, 27, of Chicago.
Abduljabbar was reportedly arrested Thursday, after an earlier reported arrest by Riley County police Monday afternoon, this time on an extradition warrant from the U-S Department of Homeland Security for violating immigration laws in some fashion. This latest warrant did not include a bond.
###
Riley County Police are investigating a report of a battery in the 700 block of Sunset Avenue. The alleged incident involved several unknown males "jumping" Tyler England, 20, of Manhattan. England received minor injuries and currently police are seeking information on the attack.
Those with information about this crime are asked to contact RCPD or the Manhattan Riley County Crime Stoppers. Reports of a dark color Jeep are associated with the suspects in this investigation and the attack reportedly occurred at approximately 2:15 AM Friday morning and was reported at approximately 4:00 AM.